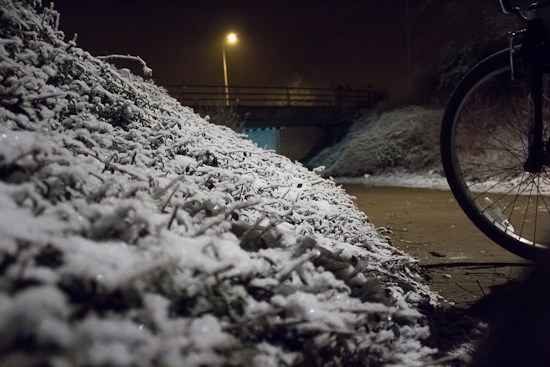 Click for full view
There is not much left of the snow that fell over the last 2 days. I stopped for a moment this evening on my way home to take this photo because I was drawn to the texture of the snow on this 'hedge'.
I'm happy with this but the street lamp in the background is kind of lame, and of course it would always be nice in such low light to have less noise. I could've taken more time in post-processing to selectively further reduce the noise in the background of the shot and avoid compromising the foreground detail – an idea for next time, perhaps.
I'm also thinking maybe it would've been better if I had stepped back and got more of my bike in shot, maybe with the rear light to add some contrasting lighting, but at the same time I really wanted to focus on the interesting shape of the snow.
I'm glad my kit lens has image stabilisation; I would never be able to shoot so slow otherwise. I ramped up the exposure, fixed the orange-cast and cranked up the noise reduction in Lightroom.
Lens: 18-55mm kit
Focal length: 18mm
Aperture: f/3.5
Shutter speed: 1/30
ISO: 3200
Flash: Did not fire